Bericht aus dem Beef Shorthorn Journal
Scottish bulls leave their mark upon German Shorthorns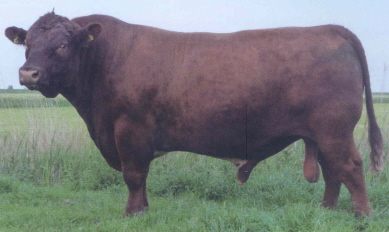 In February 2007, two Glenisla bulls were purchased by two German Shorthornbreeders at the Perth Bull Sales.Since then, Glenisla Yeelanna, ( Bild oben )a son of Belmore Fuel Injectet V12 out of Glenisla Flower L68, is doing a very good job at the Hever Shorthorn herd by the Eggers & Kohrs GbR in Osterhever / Schleswig-Holstein, and is stillin use as senior Stock bull.
The second bull is Glenisla Yorker, ( Bild unten )a son of Eionmore Mr.Gus out of Glenisla Rosebud L63. He was purchased by Andreas Kühnapfel for his herd "Shorthorns vom Osterbruch" in Rullstorf / Niedersachsen. In summer 2010, Yorker was sold to Annegien and Harm Oostenbrink from Dargun in Mecklenburg-Vorpommern.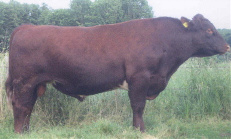 Both bulls are well fleshed and impressively calm and pass their qualities including good frame and correctness on to their easily born offspring. They have been shown quite successfully on local exhibitions and several bull calves and heifers sired by them have been sold to other German breeders and even to some herds in Denmark and the Czech Republic. German breeders are looking forward to getting some more fresh blood from across the Channel to improve their Shorthornherds !
Claudia Zettler